Hello, friends!
Recently I have been inundated with emails about making the flowers that I make for my projects. I have two tutorials that I made a little over a year ago that will should prove helpful in making your own paper flowers.
Supplies: You need the
ART PHILOSOPHY cartridge
or the
Artiste cartridge
.
Hot Glue Gun:
I use one that I bought from M's. It is a Martha Stewart and has settings for low and high temp. You will use the low temp when making flowers.
Tweezers:
This is almost as important as the glue! They are invaluable when making these flowers. Mine are of coarse from
Close To My Heart
. I like that these are long. It is great when getting into tight places.
After it has been wrapped completely slip it off of the marker barrel and grab your tweezers. Grab the center part of the flower with your tweezers and start twirling. This tightens up your flower, so you can make it as tight or as loose as you like.
You are left with this little flower. It is pretty and you can left it just as it is or you can tweak it just a little.
I like to gently bend back the petals. This opens the flower up and give it just a little more life.
I cut the leaves at 1 1/2". Again, these are ok how they are, but with just one little things turn from good to great!
Now I have a tutorial on how to give your 3D flowers a WOW factor. There are several ways to do this and today I am going to show you 5. Now there is definitely lots more than 5, but this will give you a starting point.
All flowers used for this tutorial were cut out at 3 1/2" using the
CTMH ART PHILOSOPHY
cartridge. You can also you the
Artiste cartridge

.

First lets talk about inking. I actually ink all of my flowers. Inking gives the flower a more realistic look.
To ink you will need:
a sponge
Then all you do is load up your sponge with the ink and darken the edges of the spiral before you roll it. I recommend inking both sides.
Your end result is a slightly glittered flower. The effect is very subtle, but beautiful!
The next tutorial is glittering. Now this can be done many ways for many different types of effects. For this flower, I simply added liquid glass to the edges of the flower and then dipped it in glitter.
The next tutorial is adding adhesive backed pearls or buttons to the center of your flowers. You can use anything you have on hand. I used these pearls from Close To My Heart.
Also with this last flower I rolled the edges with my fingers before it was made.It looks like this.
October Specials
Back by popular demand, I am giving away one E2 Cricut machine to
a
lucky customer. To be eligible to win, you have to place an order on my Close To My Heart website this month. That is it! I will draw a winner November 1st.
Very Merry Christmas
and coordinates with the Artiste cartridge, so if you have that cartridge you are going to want to snatch this up! It makes tag making a total snap!
As always, this stamp set (retail price of $17.95) is only $5 with any order of $50 or more!
Now don't forget that you can still buy the fabulous
Artiste
and
Art Philosophy
cartridges, so if you have not taken the plunge yet, come on in the water is great!
Melanie's Close To My Heart website
Have a MAGICAL Monday!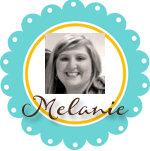 Subscribe to Courtney Lane Designs by Email