Hello, friends!
I hope you all had a wonderful weekend! I was able to craft a little and clean a lot! I call that a very productive weekend!
Today's card is made using the Close to My Heart stamp of the month and my trusty Songbird cartridge. One of my favorite things about this cartridge are all of the cool shapes it has. They are great to stamp your sentiment on for cards. I cut this one out at 1 1/2" and then again at 1 1/4".
Thanks so much for stopping by today!
Enjoy your week!!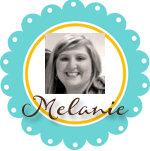 Subscribe to Courtney Lane Designs by Email